Regular price
Sale price
$23.99 USD
Unit price
per
Sale
Sold out
Key Benefits*
Made with a delicious blend of organic Turmeric, Ashwagandha, Dates, Cardamom, and Vanilla

An Ayurvedic cup of calm that helps support both body and mind

Delicious mixed into both dairy and non-dairy milks or mixed into coffee
Suggested Use
Take 1 teaspoon daily mixed into any warm milk of your choice
Description*
Golden milk, also known as turmeric milk, or haldi doodh in hindi, is a drink with a lot of history, as its been a part of Indian culture for centuries. The drink is bright gold, stemming from the key ingredient - yellow turmeric, which is mixed into white milk. Its striking appearance, and health benefits, has made it a common sight at niche cafés listed as a "turmeric latte.
Its delicious in both dairy and non-dairy milks, or mixed into coffee.
Curcumin, the active component in turmeric, has been used in Ayurvedic medicine for centuries and has important antioxidant properties, that help protect the cells in the body from oxidative stress. Turmeric has been used to support digestive health, heart health, inflammation, liver function, and the immune system.
Ashwagandha, also found in Golden Milk, has a long and varied history of traditional use dating back to 600 AD in Ayurvedic texts. It has long been used to support restful sleep, but also has been commonly used to manage daytime stress and build resilience. Ashwagandha is known to rejuvenate and tonify the entire body, especially the endocrine and immune systems. 
Adaptogens like Ashwagandha supports the ability to cope with stress and thereby conserve energy. In addition to supporting sleep which helps the body repair and recover, Ashwagandha supports daytime energy levels by normalizing stress hormone levels like cortisol.
It's delicious in both dairy and non-dairy milks or mixed into coffee. While you can enjoy Golden Milk any time of the day, most suggest drinking it in the evening before bedtime to get the full effects of its relaxing, soothing properties. It's comfort in a cup.
View full details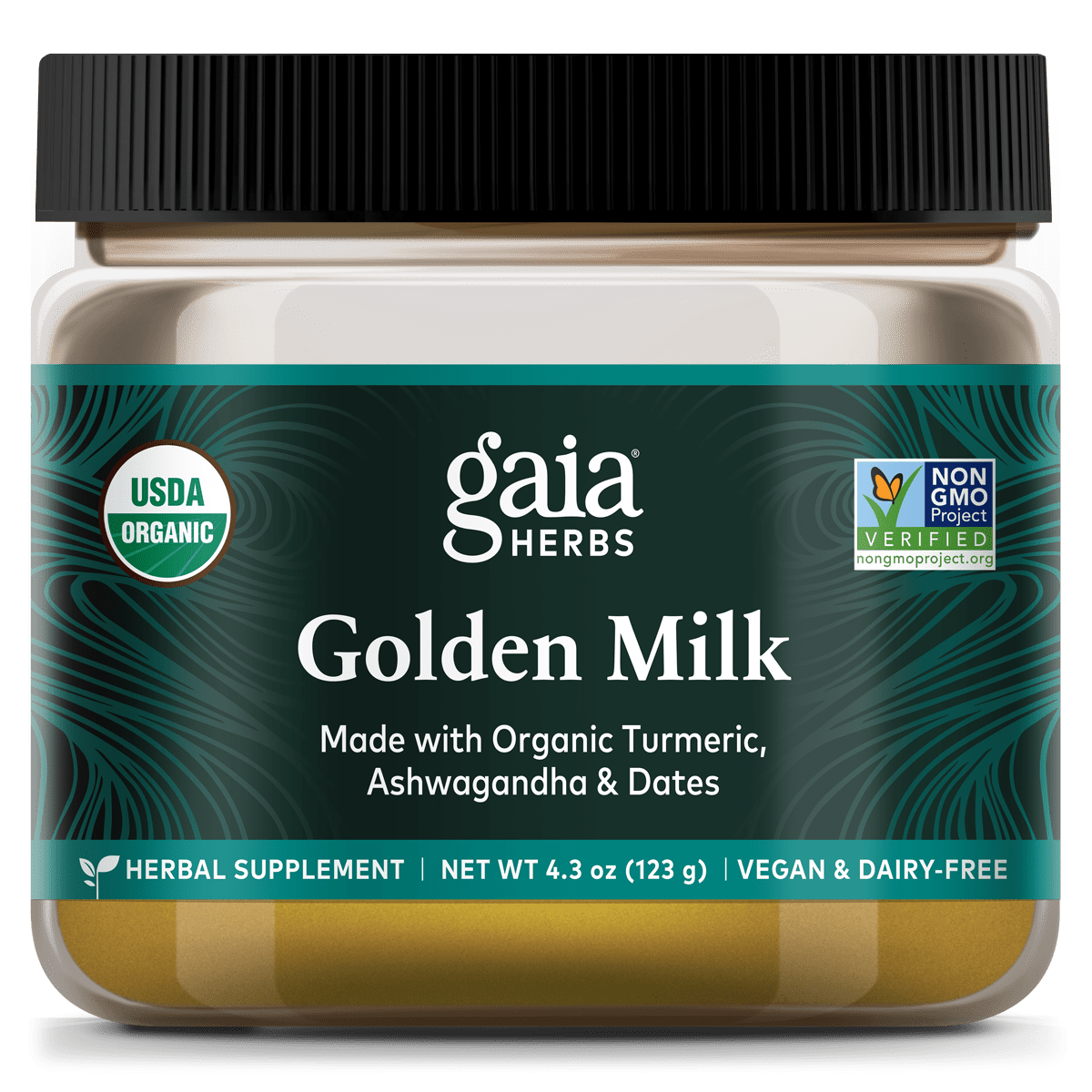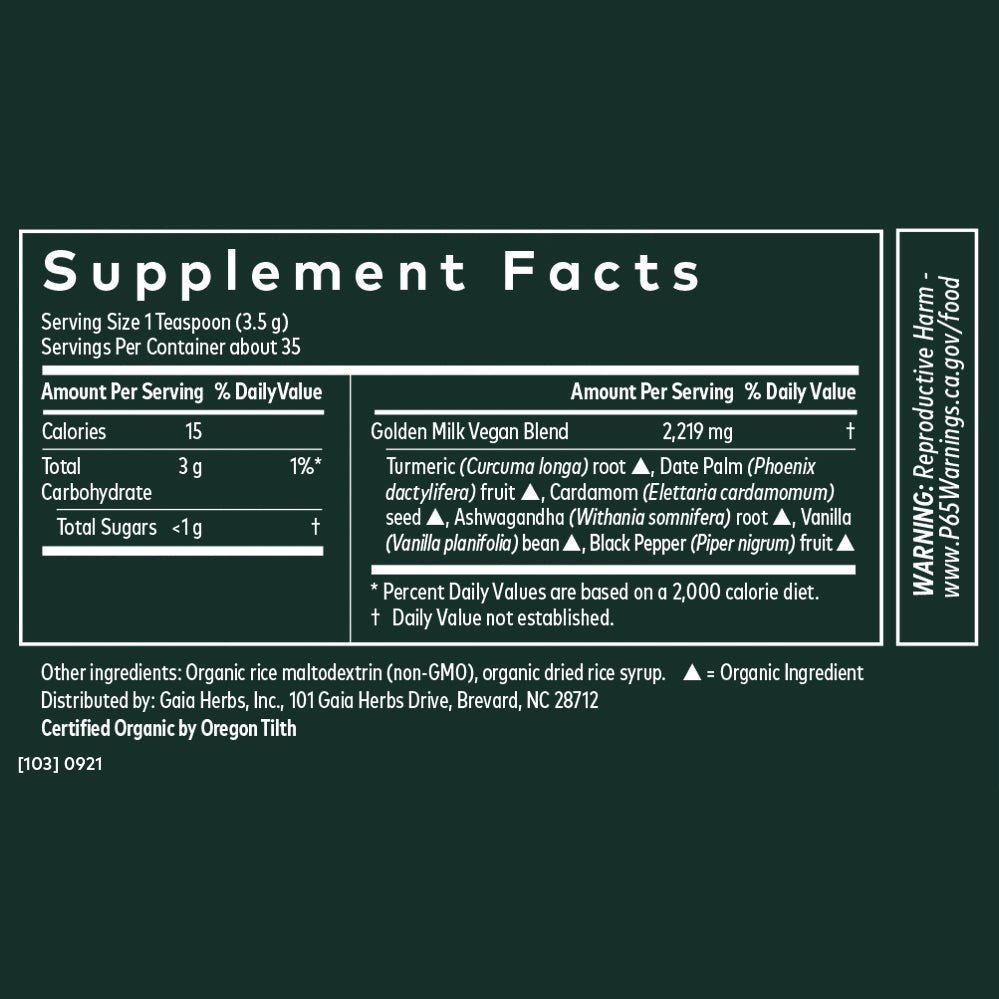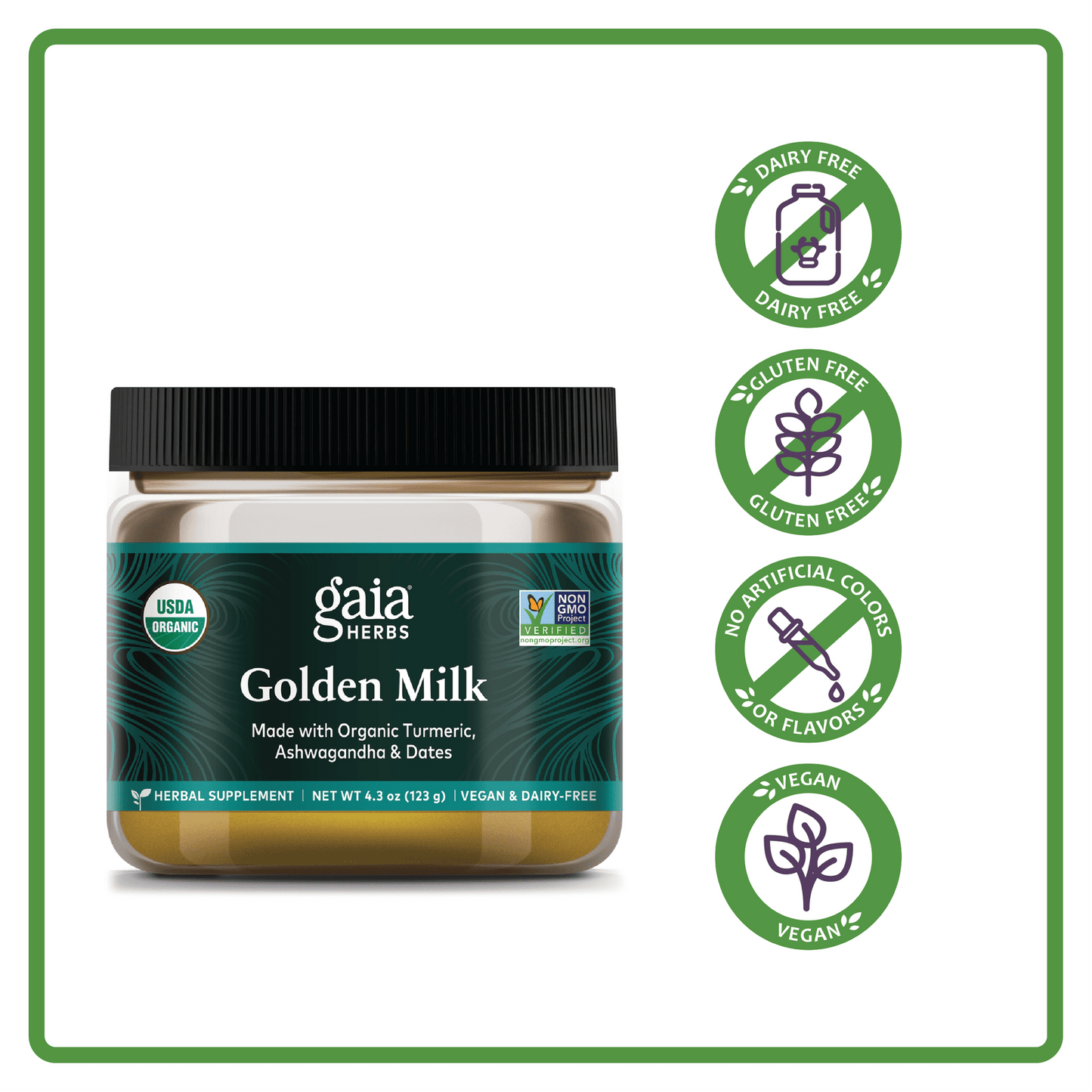 Free Shipping on orders $150+

We endeavor to ship all domestic orders within 1-2 business days of receipt. Please expect your order to be delivered within five (5) business days of ordering. When your order ships, we will email you a notification of shipment, which will include your order's tracking information. 

Disclaimers

*These statements have not been evaluated by the Food and Drug Administration. This product is not intended to diagnose, treat, cure, or prevent any disease.